*These resources and eRsources are available for loan to members of Dementia Australia NSW - if you would like to reserve them please email the Library on

nsw.library@dementia.org.au you can also subscribe to our younger onset dementia and ME blog for more updates on younger onset dementia
Young onset dementia : a guide to recognition, diagnosis, and supporting individuals with dementia and their families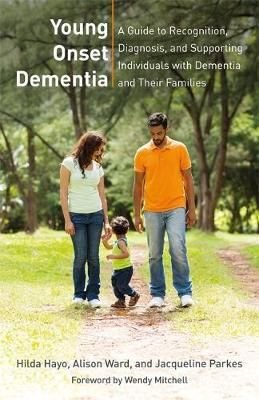 Providing key information and insight into the experiences of people living with a diagnosis of young onset dementia, this book will increase the knowledge and skills of health and social care professionals in the early recognition, diagnosis and support of young people with dementia and their families.The book explores the experiences of people living with a diagnosis of young onset dementia through detailed case studies, and gives learning points to implement in practice for the better provision of appropriate support and care. It explains the need for adapting services which are often designed for older people, and how the complicated diagnostic process can lead to misdiagnosis among younger people. Key issues are considered, including at-risk groups, work and dealing with potential loss of employment, changes in personal and family relationships, readjusting life expectations and plans, and social isolation.
Coping with early-onset dementia

Younger people with dementia face a number of special challenges. Although they have a diagnosis of dementia, they may still be working and have dependent children and family commitments. Also, they may be physically fit and find it not only to deal with losing their mental faculties, but also the stigma attached to the condition. Consequently, this guide is designed to help them cope with their condition.


Young onset dementia : care needs & service provision
The objective of this thesis was to study different aspects of the caregiving process in young onset dementia. The NeedYD-study is the first prospective study investigating the course of young onset dementia and exploring care needs of both patients and caregivers. The thesis focuses on theree main research questions:
-What are the care needs of young onset dementia patients?
-What are the consequences of unmet care needs on the course of neuropsychiatric symptoms and health related quality of life in YOD?
-What factors are related to the use of (in)formal care and institutionalization in community dwelling young onset dementia patients?
* Highly recommended.
When Dad comes home with a camera, one of those old cameras that takes film which needs to be developed, the family, Mum and their son, watch on. He seems to be taking photos of things which have no inherent interest. There are no people in them, they are of things and places around the house. Photos of his study, of the table at breakfast time, his coffee cup, the clothesline, the bus shelter. He takes roll after roll of film to the developer in the city, bringing the photos home to stick on the window.
The boy and his mum ask him why he doesn't take photos of them, but he doesn't answer.
They find that he has put things in the cupboard that shouldn't be there, and puts the hammer in the fridge, so the reader begins to understand that this man is showing signs of dementia.
The family receives a parcel in the post with his camera in it and one undeveloped film. On getting it developed they see what he was trying to show them, the family he wants them to remember.
This poignant tale of a family coping with dementia will resonate with many children in the class or at home.
They may have an older relative with signs that this disease is taking its toll, or may have seen it in someone younger, the book showing that there is no age barrier to this disease.
The illustrations are wonderful, showing the family in their house and all the things which will remind them of their missing father and husband. All around the house are things which he used and the photos of things important to him alongside the photo of him with his family.
His award-winning short fiction and non-fiction has been published in national and international anthologies, in addition to being showcased at national writers' festivals.
Ebooks to download and read include:
On Pluto
Greg O'Brien, an award-winning investigative reporter, has been diagnosed with early-onset Alzheimer's and is one of those faceless numbers. Acting on long-term memory and skill coupled with well-developed journalistic grit, O'Brien decided to tackle the disease and his imminent decline by writing frankly about the journey. O'Brien is a master storyteller. His story is naked, wrenching, and soul searching for a generation and their loved ones about to cross the threshold of this death in slow motion. On Pluto: Inside the Mind of Alzheimer's is a trail-blazing roadmap for a generation—both a "how to" for fighting a disease, and a "how not" to give up!
This book is a vivid account of the author's experiences living with dementia, exploring the effects of memory problems, loss of independence, difficulties in communication and the exhaustion of coping with simple tasks. She describes how, with the support of her husband, Paul, she continues to lead an active life nevertheless, and explains how professionals and caregivers can help

.